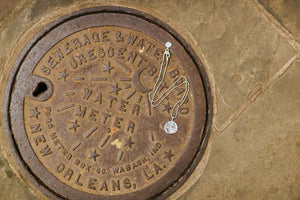 NEW ORLEANS
WATER METER
A unique way to express your connection to the Crescent City
Cristy Cali's line of Water Meter jewelry is licensed by the Sewerage & Water Board of New Orleans.  
CRISTY'S PERSONAL
WATER METER STORY
Year after year, my family and I had the same discussion, "Should we stay or leave?" 
We never really had anywhere to go. My family consisted of my parents, who migrated to the United States in the early 80's from Guatemala, myself and our beloved golden retriever, Tigger...