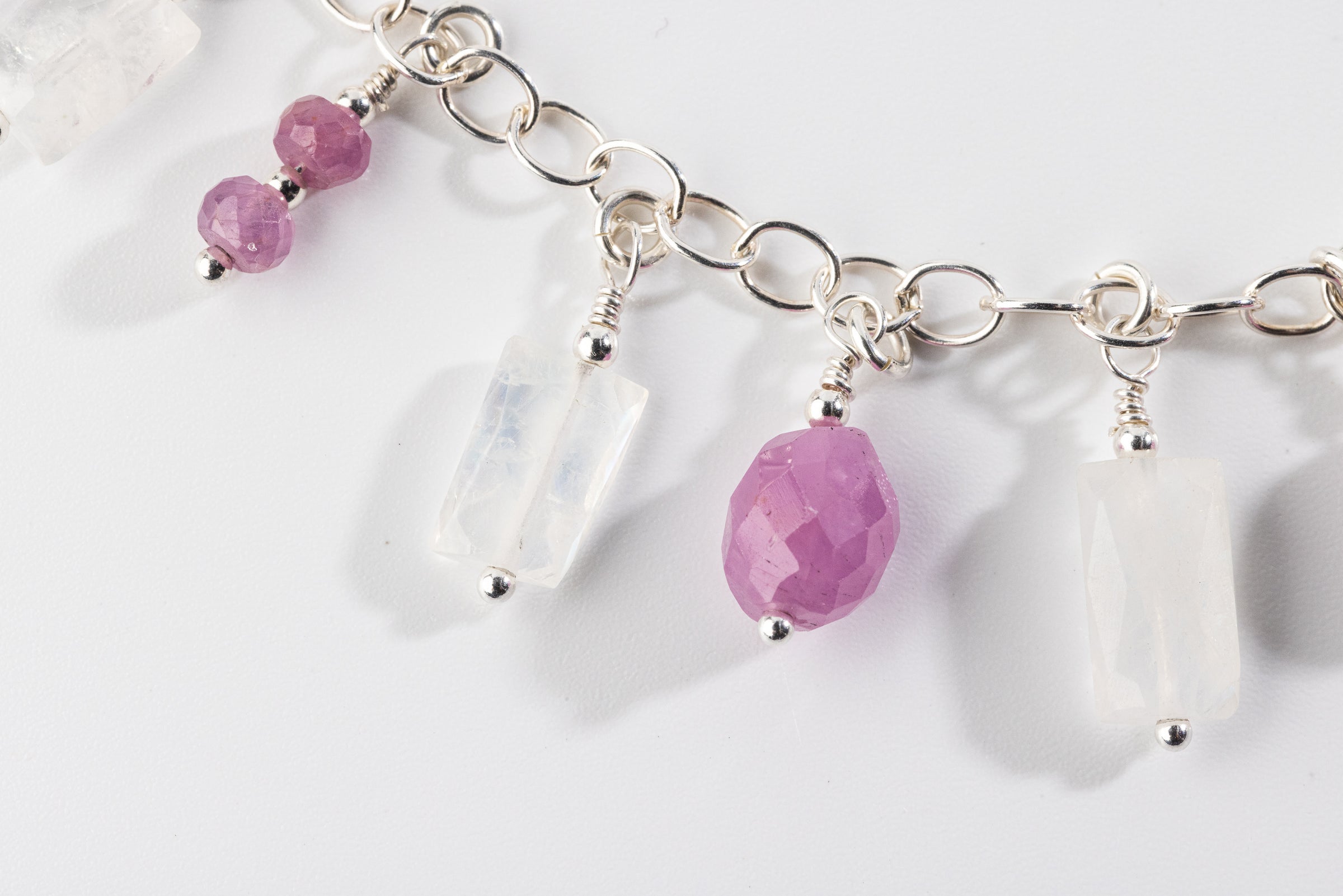 How To Care For Your Sterling Silver  Jewelry
Sterling silver jewelry is very easy to care for! When you're not wearing your jewelry, use plastic zip-loc bags to prevent them from tarnishing. If your jewelry does tarnish, our purple polishing cloths will bring your designs back to life! 
If you really want your jewelry to shine bright, check out this blog post: Best Way to Clean Your Jewelry Without Harmful Chemicals. 
How To Properly Care For Beaded Gemstone Jewelry
Gemstones come in many different cuts and degrees of hardness. Some gemstones can break if dropped or hit against something solid. Never expose your jewelry to chemicals, including alcohol found in many perfumes. Ultrasonic cleaners use modern technology to safely clean jewelry with gemstones. If you do not own an ultrasonic jewelry cleaner, click here to read The Best Way to Clean Your Jewelry Without Harmful Chemicals.
To caution on the safe side, treat your Signature Beaded Gemstone jewelry with the upmost love and respect as if your jewelry had it's own consciousness because that's what I believe. Everything is alive, even rocks, and they vibrate at a frequency which allows us to feel their metaphysical & healing properties.
How To Properly Care For Opal Jewelry 
Solid Opals – Opal is a soft stone, approximately the same hardness as glass (around 6.5 on Moh's hardness scale), so it is important to treat your opal carefully in order to avoid damaging it. Remove your opal jewellery if there is a chance it will be scratched or broken (i.e. working in the garden, moving furniture, etc.)
Many people believe solid opals can be damaged by water – however, this only applies to doublets and triplets. Solid opals are fine in water. In fact, most precious opals contain about 5-6% water. As a result, opal may crack if subjected to very dry conditions or rapid changes in temperature.
Try to avoid very high temperatures or low humidity extremes, such as boiling water or zero humidity bank vaults.
How To Clean Your Opals*
Solid opal should be cleaned gently with mild detergent in warm water and a soft toothbrush or cloth. Avoid bleach, chemicals and cleaners. Doublets & triplets may be wiped with a damp soft cloth and mild detergent, but should never be soaked or immersed.
Never allow anyone to clean your opal in an ultrasonic cleaner, as the intense vibrations may cause cracking in a solid opal, and water penetration in a doublet or triplet.
If your stone loses its shine or becomes scratched, bring it back to an opal cutter. After years of wear, small scratches and scuff marks cause an opal to lose its shiny polish and become dull looking. Professional polishing can bring new life to an opal which has become dull or scratched, and we can also check for claw damage and ensure the security of the setting.
 *According to The Gemological Institute of America, the only way to safely clean opals is with lukewarm, soapy water. Please be mindful and consider using natural soaps. 
How To Store Your Opals
If you need to store your opal away for a period of time, simply place it in a padded cloth bag for protection and store it away. For longer storage periods, place your opal in cotton wool with a few drops of water, then into a sealed plastic bag just to be safe. The water is not intended to soak into the stone (as opal is impervious) but will prevent water coming out of the stone if it is exposed to very low humidity environments (for example, zero humidity storage safes).
We hope this guide has been helpful to you, feel free to contact us if you have any further questions… Take care!